Meet the artists that have moved through Griffin Studio since its inception in 2011.
Griffin Studio 2022
Bedelia Lowrenčev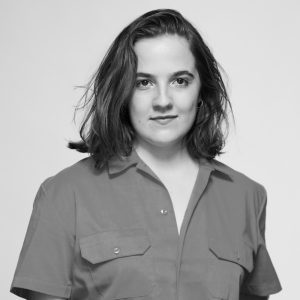 Bedelia (they/she) is a groovy disabled actor, dancer, singer and theatre maker, with heritage from Russian-Siberian Eastern European and the Northwestern European Isles. Bedelia frequently collaborates with her deaf, twin brother Jeremy, with their current work 'Collision' exploring the intersection of queerness, disability and deafness. Most recently, Bedelia performed in her new work, Collision for Sydney WorldPride at PYT Fairfield, dance and parkour work- Animate Loading with AGNSW, choreographed their first solo dance work at Bold Festival, and was a lead soloist for the new show in development, Reverence by Rose Riebl and The House That Dan Built. Bedelia's work has been supported by PYT Fairfield, Bundanon Trust, The House That Dan Built, Spark Youth Ensemble, PYT Fairfield, Dance Makers Collective, We Are Here Dance Company and DirtyFeet.
She does advocacy in a wide range of contexts around increasing access for disabled people, and also studied a BA of Criminology and Social Sciences. Bedelia will be 'Createability' intern at Performance Space as a Producer later this year, and performing in the filmed version of Animate Loading at Casula Powerhouse.
Bedelia lives and works on Wategoro and Wangal Land.
Bernadette Fam
Bernadette is an interdisciplinary dramaturg, director and theatremaker. As dramaturg Bernadette has worked with a range of companies including but not limited to: Playwriting Australia, PYT Fairfield, Sydney Chamber Opera, Poetry in Action, Critical Stages Touring, Green Door Theatre Company, Rogues Projects and Antipodes Theatre. She has also worked as a script assessor for Sydney Theatre Company and Griffin Theatre Company. Bernadette has directed Chewing Gum Dreams by Michaela Coel (Green Door Theatre Company/Red Line Productions) and St Marys Kid Ensemble (Q Theatre) and has directed new work developments for Green Door Theatre Company, Critical Stages Touring and Griffin Theatre Company. She assistant directed The Lifespan of a Fact (Sydney Theatre Company), Young Frankenstein (Hayes Theatre Company) and Lady Tabouli (National Theatre of Parramatta). In 2022 she was a Literary Associate for Belvoir Theatre Company, a Griffin Studio artist and Creative Producer at Green Door Theatre Company. She is currently New Work Manager at Malthouse Theatre Company.
Megan Wilding
Megan Wilding is a proud descendant of the Gamilaroi Nation and has established a reputation as a prolifically talented actor, writer and director. Since graduating from WAAPA, Megan has enjoyed roles in Banging Denmark, Blackie Blackie Brown, and Blithe Spirit for Sydney Theatre Company and The Rover for Belvoir St Theatre. In 2017, she won the Balnaves Award. She wrote, performed and directed A Little Piece of Ash at KXT. Megan has assistant directed Grand Horizons for Sydney Theatre Company, and in 2021 received the Griffin Award for her play Game. Set. Match.
Griffin Studio 2021
Phoebe Grainer
Nathan Harrison
"Being part of Griffin Studio has given me so much—space to think deeply and test ideas, mentorship and workshops that have helped me develop my practice, and a group of fellow artists who are supportive, challenging and inspiring.  It's a privilege to not just work but improve on how you work, broadening your process through new perspectives and rich conversations. More than ever I'm grateful for the communities I am part of, and Studio has been a wholly nurturing and constructive one."
Taofia Pelesasa
Diana Popovska
"Griffin Studio has been instrumental in giving me the confidence and knowledge to write a full-length play. Writing for theatre has always been a huge aspiration of mine, but something that always seemed terrifying. Through the care and mentorship that this program has offered; with incredible dramaturgs, writers, and theatremakers, I have been able to gain the confidence and successfully deliver a first draft of my play, Moeto Srce. I would encourage any aspiring theatre writers to apply. The Griffin family have been a joy to create alongside and it's been a huge privilege to be welcomed so kindly into their magnificent fold."
Dylan Van Den Berg
"Griffin's Studio program is an incredible opportunity for artists to embed themselves in a company structure, as well as to embark on a supported creative journey toward a new piece of work or expanded arts practice. As a playwright, I've relished the opportunity for robust conversations about my work with Griffin's Artistic team and other studio members, and gaining insights into the programming process and how decisions are made in a company context. My time in Griffin Studio has been truly inspiring, and nothing less than can be expected from Australia's premier producer and nurturer of new work."
Griffin Studio 2020
Charlie Garber
"Being a part of Griffin Studio throughout the Year Of The Plague became an opportunity to remember the resilience, ingenuity, and grit of Griffin and Australian theatre more generally. It is hard to keep down a company that attracts so many ideas, so much energy and talent, and is so committed to harnessing that. It was amazing to be around (over Zoom). Reading for the Griffin Award and the programming team put me head-first into countless other theatre heads and gave invaluable context for my own work. And of course, let's face it, being paid to write and being supported in that work is what it's all about."
Kirsty Marillier
"My time with the 2020 Griffin Studio program has been a wonderful success. Not only have I had the opportunity to hone and solidify my playwriting practice within a safe space, but also given incredible insight into the processes of programming within a mainstage context. Working under the Griffin umbrella has been invaluable to me as a POC playwright and I see this as a fabulous framework for emerging talent. I feel like I'm exiting with a tool kit, one created through extensive programming meetings, Griffin award zooms, considered consultation with senior artists (such as Declan Greene and Tessa Leong), feedback on my own projects, and generally, in working in close proximity with the company. I've had the best time. And feel like I'm a better artist for it."
Griffin Studio 2019
Emily Havea

Tasnim Hossain

"I've loved the company's work for years and so many of my mentors, champions, and now colleagues, have been former Griffin Studio artists that being invited to be one felt like a rather mind-boggling thing. The Studio introduced me to so many other lovers of theatre, whether young people, like the Griffin Ambassadors, or those who've been supporting Griffin's work for decades, like its many extraordinary donors. As artists, we get to meet other artists easily enough, but that wider community, built around this theatre, is one that I wouldn't have had the opportunity to meet otherwise. Theatre is an artform that cannot live without audiences and getting to meet them through this program has been an incredible, unanticipated joy."
2018
Meyne Wyatt
"I think pushing buttons, that's the whole point of art. That you take on what you've been taught from the generations before, and then you throw it away. That's what I find exciting about new work…What's been really great is that Griffin Studio has been able to give me workshops and the opportunity to work with actors. You can write something and have it there on the page. But unless you hear it, it's a different thing."
Caleb Lewis
"Griffin has backed me twice in the studio: once as a playwright, where I got to tell stories, and again as a playful designer, where the stories emerged out of player interactions.  That Griffin has done this is proof of their commitment to artists at all stages of their careers, as well as their recognition that a play can be many things, as can a playwright. Oh, how I love that crazy diamond stage."
2017
Phil Spencer
"The reason I love Griffin and the reason I was able to get involved with the company through the Studio program is that for me, Australian writing isn't this fixed entity. Theatre making and writing for the stage has changed in the last ten or twenty years. And what's really fun, interesting and important about working for this theatre company is that there are opportunities to get different sorts of voices on the stage…as Artistic Associate, on a daily basis I'm trying to continue to foster and support the artists—because great plays and great stories don't appear out of nowhere: they have to be nurtured and supported and given opportunity and air time."
2016
Catherine Fargher
"Initially daunted by a pile of scripts numbering in their hundreds, I was pleased to have a group of fellow artists to discuss and muse upon their content and themes. Different forms, different characters and stories, but nonetheless an active and live conversation about today's Australia. It's exciting to be in the company of other storytellers and to learn the various intricacies and vicissitudes that are part of bringing a work onto stage."
Sofya Gollan
"The opportunity to sit in a room with other Griffin playwrights on a regular basis has been an extraordinary expansion of my view of what makes a playwright's engine run. It's not just telling our story that fuels that essential narrative, it's a sense of place, identity and awareness of what's relevant and needed for audiences today. Immersion in company that deals only in playwriting and performance has enlarged my inner narrative of what is possible and needed on stage. Thank you, Griffin."
Sheridan Harbridge
"Griffin Studio put me in a room with directors, writers and administrators who shared the ins and outs of their practice with me. The insight has been invaluable, but most valuable has been the sense of community, the ethos to not work in isolation,  and encouragement to delve into the support of the arts community that the Studio opens up to you."
Phil Spencer
"The Studio has given me weekly access to a collective brain-jam of interesting mid-career theatre makers and all round inspiring artsy folks. For me it has been a rare and welcomed opportunity to talk frankly and freely about art making, storytelling and why chocolate croissants are absolutely a legitimate breakfast choice."
2015
Guy Edmonds
"My time as Griffin Studio Artist was invaluable. It connected me to new industry sectors and the opportunity to read all the Griffin Award submissions was an eye-opening experience. It was an insight into the collective cultural consciousness."
Kim Hardwick
"It was a ride! Words that come to mind are inspiring, rewarding, confronting and in an odd way liberating. It was a rare opportunity to discuss work, with other creatives, in an environment that was supportive and thought provoking… a hot house of ideas."
Karen Therese
"Griffin Studio nurtured my practice and gave me courage to connect my ideas and work in Western Sydney with mainstream cultures.  Griffin supported a research trip to Israel, and built a network between my company PYT in Western Sydney and Griffin's East Sydney community. This all led to the premier of my first work at Griffin, Tribunal, in August 2016."
David Williams
"The Griffin Studio gave me the ability to really take the time to dig in and reflect upon my work; to ask the scary awkward questions that rehearsal rooms have no patience for. To articulate what drives my work, what scares it, what feeds it, how it might morph and shift in unexpected ways. And importantly, to ask what all that might mean, for both me as an artist, and for the artistic ecology that I work within.'
Matt Zeremes
'Griffin Studio forced me to get up to date with the current theatre climate. Immersing myself in new work, debating ideas and having a platform to develop my own work was absolutely brilliant!'
2014
Mary Rachel Brown
'It was great to flex my muscles in robust conversations about what makes a piece of work stand out and matter and I loved fighting for the work that got under my skin. Since the Studio I have been rewarded with more opportunities, including a production of The Dapto Chaser and a subsequent 2016 and 17 tour of the work. A work I started in the Studio is now done and dusted and has a production next year. I am currently under commission by Griffin via the Lysicrates Prize.'
Jennifer Medway
"Being a part of the Studio was an important step in helping me believe that I could have a future in this industry. I met dramaturgs from all over the world and connected with writers and directors whose work continues to inspire me. Since Griffin I've been Resident Dramaturg at ATYP and worked on numerous new play developments and productions with companies such as Playwriting Australia. This year I'm part of Melbourne Theatre Company's Women in Theatre program."
Lachlan Philpott
"Being a Griffin Studio Artist stimulated my brain and gave me a place where I felt I could belong. Through the Studio I connected meaningfully to a bunch of inspiring artists and I have come to a much better understanding of the way our leading new writing theatre operates."
Luke Rogers
"Griffin Studio provided me with a unique opportunity to immerse myself in the home of Australian drama, build strong relationships with artists, collaborate on the creation of new plays, and strengthen my own artistic practice as a director. Griffin doesn't just create new Australian stories, but nurtures and supports the artists that are passionate about bringing them to the stage."
2013
Angela Betzien
"Griffin Studio is a brilliant opportunity to incubate ideas and connect with the hottest theatre makers in the country."
Tahli Corin
"Griffin Studio helped me to expand my skills as playwright, into those of a dramaturg. The skills that I learned through the experience have been incredibly useful, and totally transferable. I have since worked as a dramaturg not only on the development of new work in theatre, but also in dance and opera."
Tessa Leong
"The studio is a great opportunity to work alongside fellow artists and be inspired by their work, their ideas and their passion. Being at Griffin as a Studio Artist informed my own practice with my company isthisyours? and gave me great insight into how other artists create work. Also I once used my Studio Artist status to be included in a theatre junket at a regional French festival, and it worked – thanks Griffin!"
2012
Tahli Corin
"Griffin Studio helped me to expand my skills as playwright, into those of a dramaturg. The skills that I learned through the experience have been incredibly useful, and totally transferable. I have since worked as a dramaturg not only on the development of new work in theatre, but also in dance and opera."
Tanya Goldberg
"Participating in the Griffin Studio was an acknowledgment of the quality of my creative work, a platform to engage with my fellow artists and creative peers, an incubator of new ideas with the full force of a mainstage company to support them, a passport to understand the inside workings of company programming and future planning, and a stepping stone to new creative opportunities and inquiries. It has been a highlight of my career."
Duncan Graham
"The only downside to the Griffin Studio is that it's only one year, and it's hard to find a comparable experience in any other company in the country. In that year, I read and fought for the life of so many plays, both new and older ones forgotten for a generation. Since then I have continued to write of course; but more importantly, fight for the presence of playwrights in leadership roles in Australian companies, as exemplified in the Griffin Studio."
Suzie Miller
"Griffin Studio invited me into the machinations of a working writers' theatre and allowed for further development of my work which then went on to grace the historic stage at the Stables under the Griffin banner.  Engaging in the programming process as a Studio member sparked confidence in pitching my own work and continues to inform my professional career. There is no doubt that I still feel the results of the unique nurturing bestowed upon me by the Griffin team."
2011
Ian Meadows
"The Griffin Studio provided me with an essential avenue for developing and producing my play Between Two Waves, an opportunity which then led to a further playwriting commission. It was an invaluable step in my career and one I'm very grateful for."
Kate Mulvany
"The Griffin Studio allowed me to turn my favourite children's book, Masquerade, into a play and bring families into the theatre. I still pinch myself that the Studio made what I always thought impossible a dream come true. Now, three seasons and three cities later, Masquerade has been one of the most rewarding experiences I've ever had, and it all started with sitting down once a week in the Griffin Studio and sharing stories with other artists."
Shannon Murphy
"Lots of early mornings, coffees and robust conversations were what I remember most about my Griffin Studio experience. It gave me the opportunity to be a team player, creative problem solver, objectively asses scripts, help curate a season, and mentor emerging practitioners. It allowed me to create long lasting relationships with my fellow studio members who I continue to work with and rely on for inspiration and feedback today."
Paige Rattray
"During my time in the Studio program I established a number of great relationships with Australian writers and co-founded independent theatre company ARTHUR. Since then we have produced eight new works across 16 seasons nationally. The time at Griffin cemented my commitment to new Australian work and opened pathways to new opportunities in the field. I am currently in residence as the Richard Wherrett Fellow at Sydney Theatre Company."