03.12.13
In the lead-up to their Griffin Independent production of On the Shore of the Wide World, we meet the team behind the award-winning actors collective, pantsguys Productions.
pantsguys underpants.
What's your name?
Paul: Paul Hooper
Bec: Rebecca Martin
Grae: Graeme McRae
O: Owen Little
Tim: Tim Reuben
Wally: Alistair Wallace
What should I call you?
Paul: Paul (usually that works fine).
Bec: Bec. Or Kid Lightning. I'm trying to boost profile for that nickname.
Grae: Grae as in Black and White mixed.
O: O.
Tim: Tim.
Wally: Wally, I guess. I've never really been able to stop anyone.
What should I never call you?
Paul: Grumpy.
Bec: Um… Quentin Tarantino? 'Cause that's not my name.
Grae: McGragra, as in the A sound from grass. Not sure why it just grates on me.
O: Pretty.
Tim: I'm not that fussed. 
Wally: Ally. Or any variation on Wallister Alice.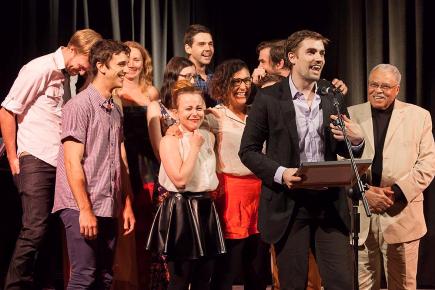 pantsguys and the cast of Punk Rock accepting their 2012 Sydney Theatre Award for Best Independent Production.
What do you do?
Paul: I'm a Co-Founder of pantsguys Productions. My role for pantsguys is Budget and Finance Guy (but really we all cover all aspects of production). I'm an actor, Director and an Acting Tutor.
Bec: Mostly watch Dawson's Creek. Eat cheese. Read the internet. I'm the pantsguys' Business Guy. I'm also an actor, director and teacher.
Grae: I'm an Actor.
O: Co-Founder of pantsguys Productions, I'm the Business Guy. I'm an Actor and a Moonshiner.
Tim: I'm an Actor, Producer and Co-Founder of pantsguys, and I dabble in stand up/sketch comedy.
Wally: I'm an Actor, Producer, Lighting Technician, Sound Designer, Stand-up Comedian, occasional Court Officer and pantsguy.
What is your art?
Paul: Theatre.
Bec: Making amazing, relevant, beautiful, impactful theatre with amazing visionary people. Luckily I've been able to do that pretty regularly.
Grae: [Grae declined to answer this question on the grounds of it being a bit naff.]
O: It's hard to simply define something that you are constantly questioning and developing but at the moment I would say story telling.
Tim: It's ever evolving, but I strongly believe in producing art for emerging artists, so that the industry stays refreshing and exciting for audiences. 
Wally: I'm not sure, actually. I'm sure I'm an artist of sorts. I think entertaining people is when I feel the most creative.
What is your coolest skill?
Paul: My kiwi accent.
Bec: I once sneezed 26 times in a row.
Grae: I'm not sure how cool people think it is but I can clap with one hand. So if you want to know what the sound of one hand clapping is just ask.
O: I'm awesome at handstands. I also make whisky which is pretty cool.
Tim: I'm a master magician. 
Wally: Thanks to severe lapses of the duty of care at my school, I am an accomplished fire breather.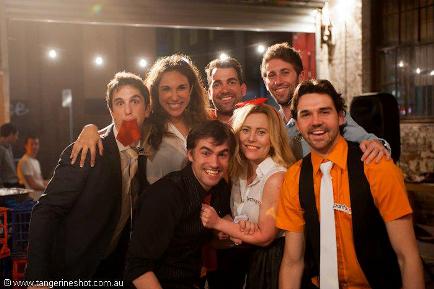 pantsguys Productions.
What's your favourite pantsguy moment?
Paul: Winning Best Production at the Sydney Theatre Awards and any moment in the room where as a company everything just clicks.
Bec: I have two. The closing night of our very first show in 2010 – autobahn. The beginning of everything. And when we crowded onto a couch and read Punk Rock for the first time and realised we had something special. The awards were pretty spectacular. But it's the moments in between, with these people who are my family now.
Grae: When the gun didn't go off for Owen's death in Punk Rock and after the initial relief that he hadn't been shot proceeded to slowly crouch to the floor and curl into a ball. Very funny.
O: When we read a really good new play. If something blows you away on a first read it is very bloody exciting!
Tim: I was camping in Africa when I found out that we'd won our 3 Sydney Theatre Awards. I was so proud to be a part of pantsguys, and so overjoyed that our work had been recognised in such an esteemed arena.
Wally: Our first trip to the Adelaide Fringe with autobahn. Never has so much cider been drunk by so few so quickly.
What about On the Shore of the Wide World makes you excited?
Paul: Great play, great writing, awesome cast and creative team and we are performing it on stage at Griffin!
Bec: The reunion of playwright, director and company with Griffin. It's gonna be off the hook, yo!
Grae: I'm pretty excited to see this play come to life. The writing itself is so moving that when I first picked it up I had to read it straight through in that sitting. So I'm really looking forward to seeing how each actor adds his or her own interpretation to each character. I'm very interested to see how this story affects audiences as well and what responses people have.
O: The immediacy of the story and the depth of the characters. It's amazing how familiar it all seems… Family units and the relationships that hold them together change and fragment as they grow. I find the way this play examines the idea of family in relation to self very exciting.
Tim: Anthony Skuse's directing always excites me. His choices are so clean and he really allows the story and the text to drive the production.
Wally: Two things: getting back the amazing creative team from Punk Rock and seeing them work so well together; and getting to know the amazing cast full of new faces (to me).
What's next?
Paul: I'm getting married!
Bec: For pantsguys, On the Shore, then another teaming with ATYP, which will be our fourth. Plus the playreadings and some exciting interstate prospects. For me, going on sabbatical to work with the Royal Shakespeare Company in the second half of next year, then hopefully bringing back some mad skillz for pantsguys. 
Grae: [Grae's answer was redacted because he was announcing things we can't announce…]
O: Christmas!
Tim: You'll have to keep an eye on ATYP to see our next production, which I don't think has been formally released yet, so I don't want to say. But I can say it's a wicked play and I can't wait to get stuck into it. 
Wally: I can only assume a stress aneurism. They tell me we have another show to do after this but I don't believe them. 
pantsguys Productions, December 2013