18.07.13
Meet 10-year-old Scarlett Waters, a talented young actor appearing in Lally Katz's Return to Earth from 4 September.
As well as having an interest in theatre, Scarlett is a keen illustrator and has been using her spare moments in the rehearsal room to capture the show's cast and creatives. She's shared a couple of her sketches with us, as well as her tips on acting, an insight into her character in Return to Earth and a couple of her favourite books. 
Self Portrait, Scarlett Waters 2013
Why do you like acting and what is the secret to good acting?
I like acting because I get to let go of my emotions and let them fly free. Cheesy, yes, but it is the truth. What is the secret you say? Just be yourself. Do whatever you feel like doing. Don't forget to have expression and humour.
Tell us a little bit about your character Catta in Return to Earth
Catta is a small 6 year old with kidney failure. She is an adult in a kid's body. Don't get the wrong message, in spirit she is – an adult – in a kid's body. Catta is a great singer but not too good at roller skating! Catta is a bit eccentric. She calls her Aunty Alice, Erika but Erika is Alice's real name anyway. Her mum died, so she has been brought up by her father.
Laurence Coy ('Cleveland Waster'), Scarlett Waters
What is special about the play?
The play is special in its own way. I don't want to sound like a critic here, but I think that Lally Katz has a good imagination and makes the characters say some pretty witty remarks. She is clever too.
Laurence Coy with Laurence Coy
What is your favourite book?
My favourite books are Seven Little Australians by Ethel Turner and the Skulduggery Pleasant series by Derek Landy.
I was introduced to Seven Little Australians by my Mum. She bought the book for me to remind me of my Great Grandfather who passed away. My favourite character is Judy because she is fun and exciting and totally unpredictable. The book is really sad too because Ju-Ju (Judy) dies.
I was introduced to Skulduggery Pleasant by my friend Xavier. He dressed up as Skulduggery for book week at school and we all didn't know what he was and he said Skulduggery Pleasant and we were like "Okay, cool" and then after the parade we went to the library and everyone was swarming and pushing each other for Skulduggery Pleasant Books. I think there was a punch up too (just kidding).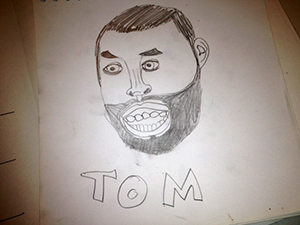 Tom Hogan (Sound Designer), Scarlett Waters
Click here for more information on Return to Earth.