19.01.21
Elias Jamieson Brown's play Green Park is named after, and set in, the real Green Park, which is situated opposite St Vincent's hospital on Victoria Street in Darlinghurst. Green Park has been nestled amongst the urban hustle and bustle of one of Sydney's most vibrant suburbs since the late 19th century, meaning that the site has seen several lifetimes worth of activity. Learn a little more about the colourful history of Green Park and its nine (or more) lives!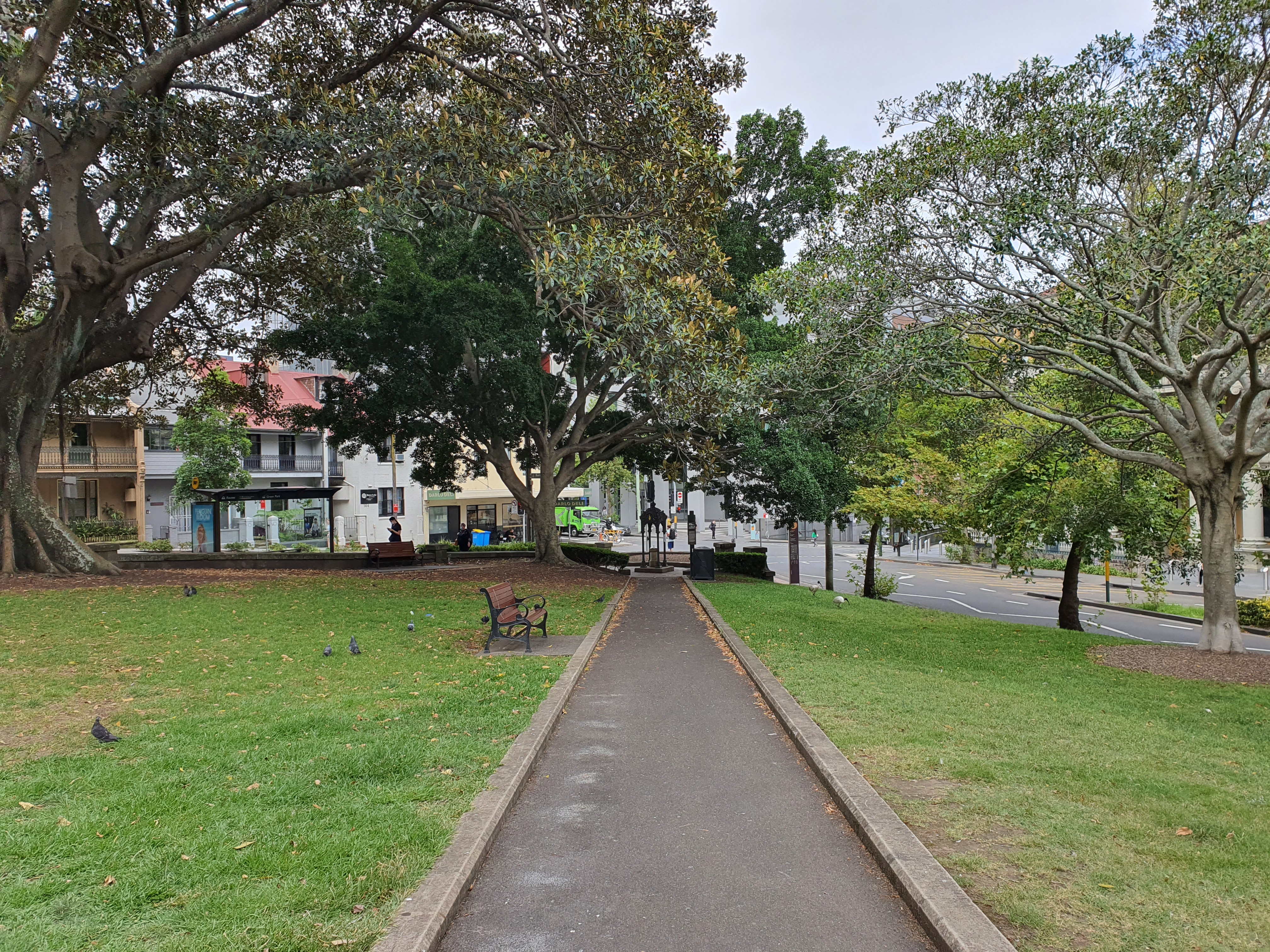 In the 1860s, the site where Green Park sits now was set aside for 'accommodation for aged and infirm females', however, these plans fell through, and the site was then given to the City Council in 1875 for a 'public recreation ground'—Green Park was born!
Green Park was named after City Council member Alderman James Green, who was a painter and glazier originally from Cornwall, and who sported a rather impressive beard. Although James Green was the park's namesake, there was another fabled Green who many mistakenly associate with the name—convict and assistant hangman Alexander Green, who lived in a hut next to Darlinghurst Gaol (more on that later). According to the City of Sydney website, Green was "described as very ugly, with pockmarked skin and stumps for teeth, of simple mind, with a large scar, from an axe attack by a prisoner, down the side of his face". Oh dear. Green eventually went insane and, after hanging approximately 490 people in his lifetime, was admitted to Tarban Creek Asylum (in what is now known as Gladesville) and he remained there until death in 1879.
Green Park is home to a rather eye-catching bandstand, which was erected in 1925 to host public concerts in the interwar years, a popular way to pass the time back in those days. It was converted to a café in the 1990s but now sits empty, keeping watch over the park's trees, pigeons and pathways.
As is explored in the drama of Green Park, the actual park's history is deeply intertwined with its status as a site of Sydney's queer social history. Green Park is a historical site of utmost importance to Sydney's LGBTQIA+ community for a number of factors, one of the most prominent of which is its location. Before 1984, homosexual acts were considered to be criminal, meaning that sex, hookups and romantic possibilities had to be sourced with absolute discretion—usually, by subverting particular public spaces like promenades, parks, beaches and bushland into 'beats'. Green Park was an extremely popular gay beat because when pubs would close for the night in Kings Cross and Darlinghurst, there would be a healthy influx of night owls heading from these suburbs towards the bright lights of Oxford Street around this time. Green Park was a major part of the queer nighttime thoroughfare, making it an ideal meeting place for gay men. The tall sandstone wall of the old Darlinghurst Gaol was known as 'The Wall', and of an evening, rent boys would walk along its length, discretely offering their services to potential Johns. The park's public toilet was also an infamous hookup spot that 'operated' twenty four hours a day before it was demolished.
The park's hidden landmarks possess an air of the sacred after so many decades of secret ritualised acts—so much so that the Sydney chapter of the Sisters of the Order of Perpetual Indulgence squirrelled away a chunk of the public toilet's urinal on the night that the infamous building was demolished. In the top corner of the park, right next to the Jewish Holocaust Museum, lies the Gay and Lesbian Holocaust Memorial, which commemorates the legacy of homosexual men and women who were the victims of violence because of their sexuality, including those who were the victims of oppression during the Nazi Holocaust and in Soviet labour camps.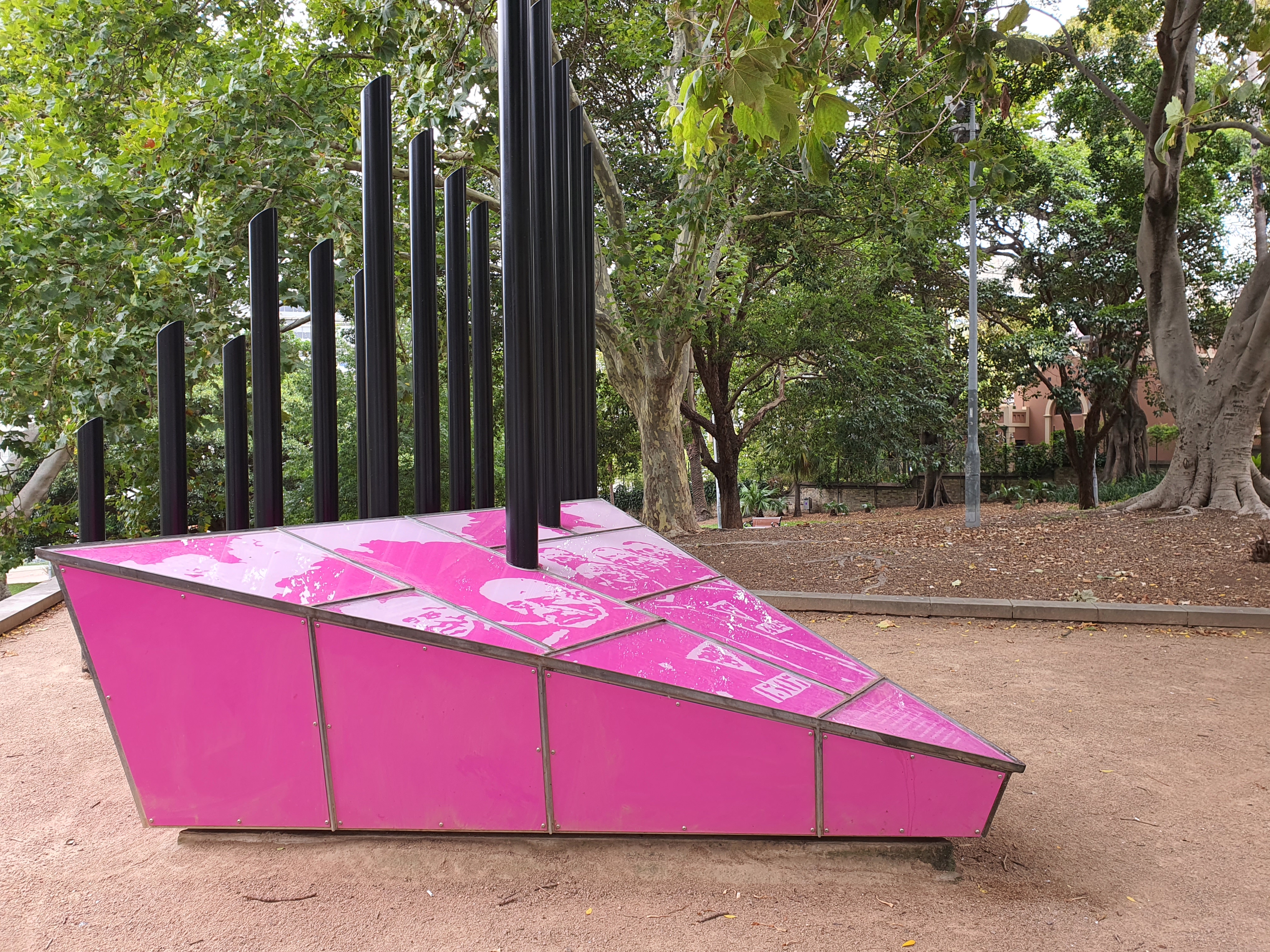 Today, the park's legacy as a beat has dwindled, and the icons it houses are nothing more than relics of a time long before Marriage Equality. But it's still an important reminder of Sydney's underground history, and it's also still an important thoroughfare and meeting place for Sydneysiders from all walks of life—whether that's health workers on a break from St Vincent's Hospital, members of Darlinghurst's homeless and low-income community, or staff members of a certain Australian theatre company celebrating a colleague's birthday with a park picnic. It's this rich centuries-old history of trauma, pleasure and identity that informs the context of Elias Jamieson Brown's Green Park, as well as the culture of our vibrant and ever-changing Sydney community.
Griffin's season of Green Park is sold out. There may be a very limited number of tickets that become available throughout the season—if you'd like to try your luck at nabbing a seat, email the Griffin Box Office with your name, phone number, and two nominated performance dates. Please note that a maximum of two tickets applies.