23.04.14
Eight Gigabytes of Hardcore Pornography star and acclaimed comedian, Andrea Gibbs took time out from the rehearsal room to tell us a little about herself and why she thinks Declan Greene pushes old ladies down stairs…
I grew up in Donnybrook, a small town in the South West of WA and I can't ever remember making the choice to become a performer. I didn't even think it was possible. Although, looking back at my old childhood diaries, I must have thought it might be. I predicted in one diary entry that 'future-Andrea' would marry actor Brian Austin Green from 90210 – so an association with showbiz must have been on the cards at some point – even though I was just having his babies.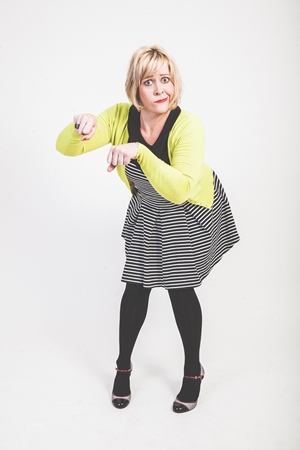 Andrea Gibbs Photo by Matsu Photography
After I graduated from Curtin University in 2001 from the theatre program, I started getting cast in mostly comedy roles, and the 'funny-girl' title kinda stuck straight away. It still took me over a decade of working in the industry to admit "Ok, I guess I'm a comedian and an actor". When I was younger I just didn't think that was even an option as a career. I feel incredibly lucky to be able to share stories and make people laugh.
I had been touring my solo show in New Zealand and was on the road to Wellington when my agent emailed me the Eight Gigabytes of Pornography script. I opened it up on my phone and even though I get pretty severe car sickness from reading, once I had started the damn thing I couldn't put it down. Lucky for my tour buddy I finished it in record time and avoided redecorating the inside of the car with my breakfast.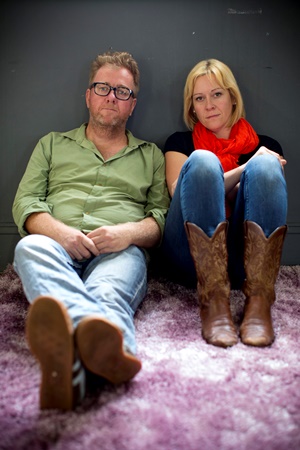 Andrea Gibbs and Steve Rodgers. Photo by Brett Boardman 
It was the best thing I'd read in… well, forever. I was immediately drawn to the honesty and the vulnerability of the characters. Declan Greene also has the most bleak sense of humour which I love. Tina Fey once said "If you want to make an audience laugh, you dress a man up like an old lady and push her down the stairs. If you want to make comedy writers laugh, you push an actual old lady down the stairs". Declan Greene pushes actual old ladies down stairs. He is an evil genius. And it's been such a privilege to have him in the rehearsal room with us.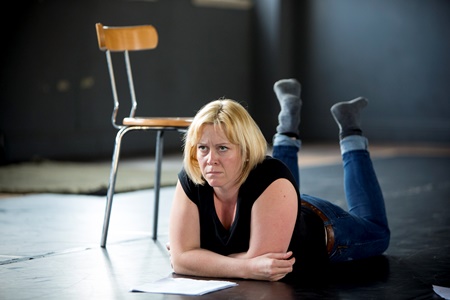 Andrea Gibbs in the rehearsal room. Photo by Brett Boardman
Coming out of week three of rehearsals, I've never been more excited and terrified by a project at the same time. This show doesn't let the audience retreat into their comfort zone, let alone us actors. But it's exciting because without a challenge there is no spark of passion, there is no lasting excitement and there is no conversation in the foyer afterwards.
Eight Gigabytes of Hardcore Pornography is really going to force people to look at their own lives, there'll be a lot of chatter after the show. I hope the Griffin bar staff will be ready!
Eight Gigabytes of Hardcore Pornography by Declan Greene plays from 2 May – 14 June. For more info and to book, click here.