Tasnim Hossain
Tasnim Hossain is a director, playwright, dramaturg and screenwriter. She directed -.- for Eat Me (NIDA), Yellow Face (Dinosaurus Productions) and Rough Draft #49 – Garage Sale (STC). She was assistant director on Banging Denmark (STC) and The House at Boundary Road, Liverpool (Bontom). She wrote and performed Boys Light Up (Blue Room Theatre) and Letters to John (Batch Festival/Fringe World/Crack Theatre Festival). She was co-creator, co-writer and actor on Carpark Clubbing (ABC iView).
She has been a STC-CAAP Directors Initiative participant, Griffin Studio Artist, ATYP Resident Playwright, and Melbourne Theatre Company's Women in Theatre mentee. She is an ATYP board member and 2020 Australia Council Future Leader.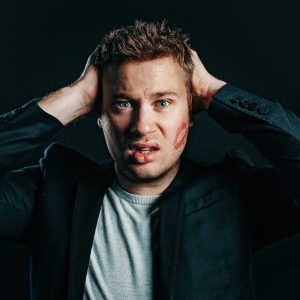 Jake Howie
Jake Howie is a Kiwi comedian who got his start on the vibrant London comedy scene. Performing regularly at some of the world's best clubs, including Top Secret Comedy Club, Brighton Komedia and Glee Club Birmingham, Jake won the Reading Comedy Festival New Act of the Year in 2015 and placed as a finalist in the prestigious NATYS New Variety Lives Awards in 2018.
Starting out in improv, Jake went on to appear in Australasian TV commercials and a variety of professional acting work. This includes a supporting role in Auckland Theatre Company production, an episode of Jam TV's Working Holiday and a role in New Zealand soap opera, Shortland Street. On top of this, Jake has been heard on BBC Radio 4, Talk Radio and the popular podcast, Global Pillage, as well as being seen on BBC One, Twitch TV and TVNZ.
Peter Polites
Peter Polites is a novelist from Western Sydney. He has written two queer noirs, Down the Hume and The Pillars, which won the 2020 NSW Premier's Multicultural Literary Award. He also won the 2020 Woollahra Digital Literature Prize for Fiction. In 2021 he was the ACT Writer in Residence at UNSW Canberra and working on his third novel, God Forgets About the Poor.