23.03.16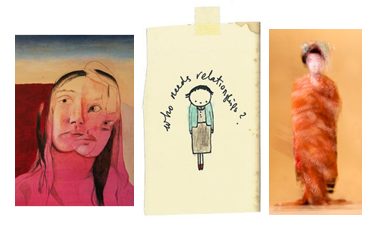 As part of our major fundraising initiative for 2016, 12 talented artists have created portraits of characters from our 2016 season.  These pictures will be auctioned at a fundraising event in April, but they'll also be on display in the foyer of the SBW Stables Theatre on Sunday 17 April between 12 and 4pm.
Here's a quick introduction to three of our amazing artists.
Samantha Tidbeck
Samantha Tidbeck is a local artist currently exhibiting at the Sheffer Gallery in Darlington until the 26th of March. Samantha has showcased her work all over the world and has also taught art at various schools and art centres.
For Griffin's Portrait of a Character she has chosen to create a portrait of Derek from Benedict Andrew's play Gloria.
Read more about Samantha's exhibition.
Emma Magenta
Emma Magenta began her career drawing and writing her thoughts down on brown paper bags while working at Berkelouw Books, a Bookstore in Paddington, Sydney. After pinning them to the front window, they accrued a cult status and a publishing deal was offered to her by Australian publishing phenomenon Bradley Trevor Grieve. She is a much-loved and prolific exhibiting artist, writer and performer who draws on her own life experience to weave a tapestry of universal truths, bringing together a wide and varied audience.  In 2011, Emma created an animation series produced by Hopscotch Films and The ABC titled The Gradual Demise of Phillipa Finch. Written and directed by Emma Magenta and narrated by Toni Collette, the series debuted to rave reviews. Emma has just written her first short film, Remembering Agatha that goes into production in 2016 and will continue into a T.V series for The ABC.
For Portrait of a Character project Emma has created an original collage based on the character of Basra from Stephen Carlton's The Turquoise Elephant.  
Caroline McLean-Foldes
Caroline McLean-Foldes is a Sydney based photographer who has travelled the world, photographing and studying with healers and spiritual teachers, exploring both Eastern and Western spiritual traditions.  Her work focuses on the heart, soul and spirit of the natural world, as well as our everyday surroundings. Her first major solo exhibition was Sacred Landscapes at Meyer Gallery 2011. Her distinctive approach is to attune to the mood and emotive power of nature illuminating the way it directly accesses our spiritual self.
Caroline has created a portrait of the character John from Phillip Kavanagh's Replay.
"John's frailty as a small, innocent and trusting child touched my heart and aligned with my romantic search for meaning through the emotional and spiritual depths of human experience."
 __________________________________________
Featured artwork, from left to right:
-Samantha Tidbeck " Saskia"  2016 mixed media on ply  50cm x50cm
-The Gradual Demise of Phillipa Finch by Emma Magenta
-Looking Glass Self, 2012 by Caroline McLean-Foldes from An Ideal Destination