14.01.14
Our GriffInsider sits in on a Jump for Jordan rehearsal and takes five with Iain Sinclair, Donna Abela and the Jump for Jordan cast. 
On day three of rehearsals for Jump for Jordan, I step inside the rehearsal room to a chorus of raucous laughter and cheers. The cast are discussing Greek artifacts and nipples, and I'm almost sorry to have interrupted what was clearly a golden moment. Once the team have composed themselves, I get a quick round-table introduction to the cast before director Iain Sinclair announces it's time to get back to business. "Now," he says, tucking in his chair and finding his place in the script, "back to lesbians and pastry".
Swiftly resuming their work, the talented bunch of people huddled around the table, including writer Donna Abela, director Iain Sinclair, dramaturg Jennifer Medway and the six Jump for Jordan cast members, alternate between navigating their way through the script and diving into impassioned discussions of respect, tradition, Arabic poetry and the luxury of love. Just as quickly as the conversation turns serious, soon again are the cast cheering and applauding as two characters share their first on-stage kiss. It may only be day three of rehearsals, but already it's clear that this character role-call of mothers, sisters, partners and fathers share an electric and tangible chemistry – a chemistry which is thrilling to watch for Donna Abela, the play's award-winning author.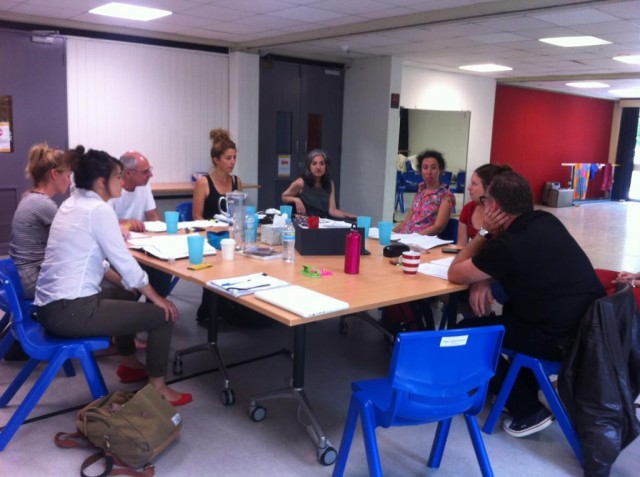 The Jump for Jordan cast with dramaturg Jennifer Medway and director Iain Sinclair.
"It's fantastic to be able to see the words being embodied, spoken, and thrown around on the floor," Abela says. "Writing in isolation is something that I have to do, but there's a point at which I have to come out of the bubble. I'm seeing things that I hadn't seen before, and that I would not see just sitting at my desk. At the end of the day, this is where the making happens."
While the play's climax has been written numerous times, Abela admits that she's yet to nail it. Though she's hardly worried – rather, Abela says the rehearsal room provides a great vantage point.
"I have this thing that you have to live through what you're writing," she says. "The whole play is about one character being overburdened, so I've had to live with overburdening myself – more than with any other play. Part of finding the climax is overburdening myself, and distilling it down to find the heart of the piece. But I absolutely trust that it's buried in there and that we'll find it."
Day four on the floor.
There's a glint in her eyes when she says the word 'buried', and I get a sneaking suspicion that she's not speaking figuratively. Although Iain is careful not to spill too much.
"Jordan pours into these people's lives, and pours physically into the set," he says. "The set is kind of an archaeological dig; it's the old world that you can't quite ever shake off."
The cast smile appreciatively, enjoying their private secret, until Iain once again finds his place in the script.
"Right," he says. "Back to the nipple cup."
GriffInsider, January 2014