13.08.13
Return to Earth director Paige Rattray is proud to share an apple isle heritage with Launceston artists Mae Finlayson and Ashley Bird of Team Textiles. She sat down with them for a quick chat about the collective's practice, the Tasmanian zeitgeist, and their upcoming collaboration.
Who puts the Team in Team Textiles?
At its core Team Textiles are Mae Finlayson and Ashley Bird, but we invite guest artists and other members to drop in and out to keep the projects fresh. I guess we're like the Ramones – if the Ramones were a textile-based art group instead of an awesome-based rock group.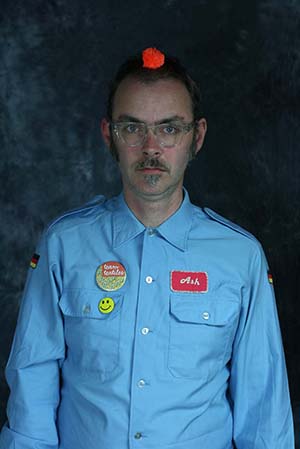 Ash from Team Textiles
Have you always worked in Tasmania?
We are both from Melbourne originally. We moved to Launceston at a similar time, but completely unaware of the other, about four years ago. Mae got a job teaching textiles at University of Tasmania, Australia and met Ashley when he enrolled in her summer school unit and the rest – as they say – is history.
What is your practice? 
Mae spent 15 years in London studying and working in fashion and art before returning home to Melbourne in 2009. Ashley's past practice in fashion and television was in Sydney and Melbourne before he moved down.
Mae from Team Textiles
Your exhibition at Adelaide artist run initiative FELTspace has just closed. It was an interactive project called The Knitted Poo Machine. Thinking of that other famous Tasmanian poo machine, the Cloaca at MONA, what makes your poo project different and what is it with Tasmanians and poo? Is this part of a new zeitgeist?
The Knitted Poo Machine is an interactive installation piece aiming to engage an audience in serious play. We set up a unique participatory scenario where participants are invited to share, add to and extend the work by finger knitting their own poo specimen. Staging this activity in a gallery space gives irreverence and valorisation to a private but universally experienced mundane bodily function. It's also funny and prompts people to share their most hilarious 'poo' stories.
The Knitted Poo Machine
Participant's tactile engagement with the artwork results in the production of experimental souvenirs that are then placed into zip lock bags, signed, dated and nailed to the wall.
The growing collection of woolly excrement reinforces the open-ended objective of The Knitted Poo Machine as an ever-evolving community engagement device. We did of course see the similarity with the Wim Delvoye artwork at MONA to be timely and we thank him for making it OK to poo in a gallery.
You're pretty interested in audience activation and interaction in your practice right? 
Yes our practice to date has been based around us providing the concept and the materials for audience engagement. Facilitated public participation is vital to the creation of the work. Documentation is an important facet and sometimes becomes the work, for example, our Masked Family Portraits at Junction Arts Festival 2012.
Team Textiles' tagline is 'It's a Good Time Okay.' Would it be accurate to describe you guys as passive-aggressive optimists?
Hmmm, how about 'forever the possamists'?
Team Textiles
You're from Launceston, what's it like there?
Launceston is a city of about 100,000 with a vibrant and growing contemporary art scene. Mae is currently the Chair of the Sawtooth artist run initiative committee, and a small room at Sawtooth is TTHQ (Team Textiles Head Quarters).
Tasmania seems to be an artisan island full of makers – from timber workers to boutique cider and whiskey producers. Is there something in the water, or is it just that the water is so clean?
Tasmania as a landscape is a place of inspiration, we both came here from Melbourne to find a location that had the room to move creatively and freedom to do things you can't do easily in a bigger city. Tasmanians tend to be passionate people, whether it is about their produce, agriculture, art making and/or mountain trekking and so finding a supportive network is quite easy. It may be a symptom of island living, but as a small population, connections are everywhere. There is a closeness to the community that makes an arts practice an exciting and inclusive undertaking in an encouraging environment.
We're collaborating together in making a major design feature for Lally Katz's Return to Earth, opening at the SBW Stables in Sydney at the start of September. This is a massive adventure and departure for both of us – or have you done this sort of crazy stuff before?
It is most definitely an adventure into different territory for us. The work for the show is one stand-alone piece that has a significant and intimate relationship with its on-stage characters. It will be a very finished work compared to other projects that we have worked on. Usually our focus is on co-creating with public audiences to facilitate outcomes that can be fluid and open-ended.
Team Textiles
What is it like making something in conversation with an existing work (the play) and in collaboration with someone working in a completely different medium (theatre)?
The exciting part for us is that we feel like we are making a work that is a character of its own. As it grows in our studio it gains complexity that we have drawn from the play itself.
Without spoiling any potential surprises, can you give us an idea about the …thing… you guys are making for the show? 
Well it's a set piece that stands in as an immersive mindscape that identifies the main character.
Finally, what are some cool things/stuff going on/people doing interesting things in Tasmania that we should know about?
There seems to be a greater attention on our creative island over the past few years. MONA does draw a lot of tourism but in the north you should know about:
Sawtooth and Outward, the two artist run initiatives that generate a greater arts dialogue between and within local and interstate artist communities.   
Milkbar and The Garden of Vegan, our two favorite places to eat and learn stuff.   
The Tasmanian College of the Arts (North) which fosters a great theatre and art scene. 
Harvest Farmer's Market on a Saturday morning, if you're up early enough!  
Junction Arts Festival that happens annually in and around a big top tent in Civic Square. It's COOL!
Team Textiles