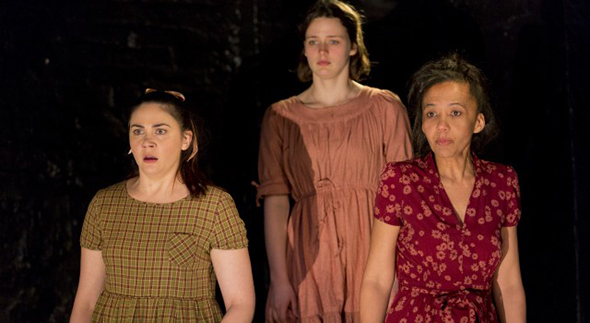 Production Partner
As a new writing theatre, we program a wide range of stories that reflect our time, place and the unique voice of contemporary Australia. It takes a lot of courage to support untried and untested work, plays that can be raw, honest and unflinching. However in saying so, we need to acknowledge that some productions—however remarkable and poignant—will never attract corporate support.  
To ensure that these stories continue to be told, Griffin seeks private production support for one play a year. A play that stands out in terms of its ability to articulate a new and powerful vision, that brings strength, insight and candour to the stage.
The program was launched in 2015 in support the world première of The Bleeding Tree. In 2017, the program helped to bring Declan Green's The Homosexuals to the Griffin stage. In 2018 we are inviting you to help us produce David Finnigan's Kill Climate Deniers. 
All of the stories told on the Griffin stage are unique, entertaining and thought-provoking.  The Production Partner program is for people who also believe in giving voice to the stories that might not have mainstream appeal, but are all the more important because of it. 
Donor Gil Appleton says of her experience supporting The Bleeding Tree:

"It took just one reading to convince me to support The Bleeding Tree. My decision was totally justified.  It was great getting to know all the creatives and watching rehearsals as the production evolved. It was theatre-making from a new perspective (for me), and seeing the brilliant final result on several occasions – including first and last performances - made me very proud to have been involved with this thrilling, confronting, beautiful play." 
There are two levels of support: 
Production Patrons
Production Patrons donate $5,000 towards the production, either individually or as part of a syndicate. Production Patrons have the opportunity to have dinner with the cast and key creatives, visit the rehearsal room, join us for opening night, as well as invite family and friends to a special performance. You'll also be invited to our mainstage opening nights throughout the year and receive regular invitations to Griffin social events.
Production Sponsors 
Production Sponsors donate $1,000 towards the production and in return are acknowledged on the play poster, the program, the foyer screen throughout the production and on the Griffin website. You and a guest will be invited to the 'Inside Rehearsal Room' event and to Opening Night to meet the cast and crew. 
How to Donate
To make a donation, or to discuss the program, please contact Will Harvey on will@griffintheatre.com.au or 02 8960 7799. All donations are fully tax deductible.